In order to further understand the needs of enterprises for the professional quality and professional ability of marketing, international economy and trade talents, Yao Wen, member of the Discipline Inspection Commission and director of the Department of International Trade & Marketing of the school of Commerce and Trade of Southwest University, Kuang Yunwu, chairman of the trade union, Yu Qingrui, teacher and his party came to Chongqing Fangtong Animal Pharmaceutical Co., Ltd. for field trip and exchange on December 22. Fangtong extended a warm welcome and reception to Professor Yao Wen and his delegation from Southwest University.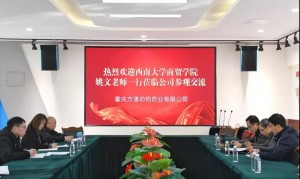 During the visit, Mr. Fu, Deputy General Manager and Minister of Foreign Trade Department of Fangtong, introduced the company's foreign trade development process, future planning and market prospect to the guests in the form of short video. Deputy General Manager, Miss Liu Lixia, introduced Fangtong's technology research and development, talent training, after-sales team and so on. After the introduction, the two sides had an exchange and discussion on the training scheme of marketing.
Mr. Fu said that China has become the world's manufacturing center. Under the background of the "one belt, one road" strategy, It is a historical trend for Chinese enterprises to go out. Fangtong has a great demand for talents majoring in international economy and trade with veterinary medicine knowledge.Fangtong hopes to strengthen communication and exchange with the school of Commerce and Trade of Southwest University. The two sides put forward a series of constructive suggestions to improve the quality of professional talent training in the discussion, and communicated and negotiated on college enterprise cooperation such as on-the-job internship. Later, Professor Yao Wen and his delegation also visited the company's workshop and infrastructure. During the investigation, the two sides expressed the hope to introduce more talents, strengthen the cooperation between "colleges (schools) and enterprises", increase investment in scientific and technological research and development, provide suggestions for enterprise transformation, and contribute to the construction of Rongchang national animal husbandry science and technology city.