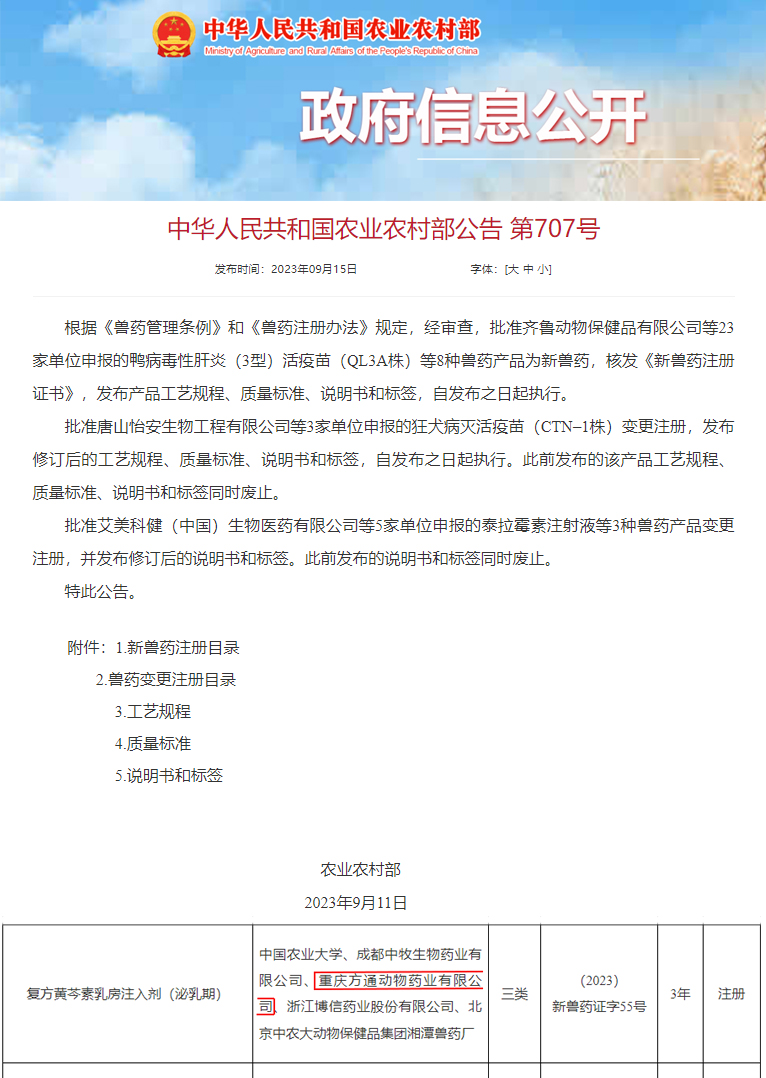 Recently, the Ministry of Agriculture and Rural Affairs of the People's Republick of China issued Announcement No. 707, approving "Compound Baicalin Mammary Injection (Lactation Period)" researched by Chongqing Fangtong Animal Pharmaceutical Co., Ltd. as a national Class III new veterinary drug, and issuing the "New Veterinary Drug Registration Certificate".
Mastitis is a common and prevalent disease in dairy cows, characterized by local lesions caused by various pathogenic microorganisms. It can lead to inflammation and swelling of the mammary gland, reduce milk production, and affect milk quality. Mastitis causes significant economic losses in the dairy industry. Various microorganisms are present in the living environment of dairy cows, and most cases of mastitis are caused by Staphylococcus aureus, Streptococcus, and Escherichia coli.
The transmission routes include transmission between cows during milking, such as contaminated milking equipment and the hands of milkers (especially when milking the first three teats without disinfecting gloves between each cow). Flies can also act as vectors and transmit Staphylococcus aureus, Streptococcus, Escherichia coli, and other pathogens. Additionally, the licking behavior between calves can also spread these pathogenic bacteria.
The market launch of Compound Baicalin Mammary Injection (Lactation Period) will effectively address similar concerns. Its main ingredients are "Amoxicillin" and "Baicalin". Amoxicillin is a broad-spectrum antibiotic that exerts bactericidal effects by inhibiting bacterial cell wall synthesis. It has good bactericidal activity against various Gram-positive and Gram-negative bacteria that cause mastitis in dairy cows. On the other hand, Baicalin enhances the antibacterial activity of Amoxicillin by inhibiting the activity of penicillinase and penicillin-binding protein 3, thereby increasing the sensitivity of methicillin-resistant Staphylococcus aureus to Amoxicillin. The combination of these two components has a good bactericidal effect on penicillinase-producing Staphylococcus aureus and methicillin-resistant Staphylococcus aureus.
We has been driven by innovation, and takes technology as the guide, regards quality as lifeblood to create a new era of animal health industry. We sincerely invite friends from all over the world to join us in the research, development, and promotion of animal healthcare products, and make greater contributions to livestock farming industry.
Send your message to us:
---
Post time: Sep-18-2023